Be more productive with automated workflows
CICOD Workflow Manager (WFM) is a flexible and fully integrated platform designed for Service Fulfillment and Problem Handling.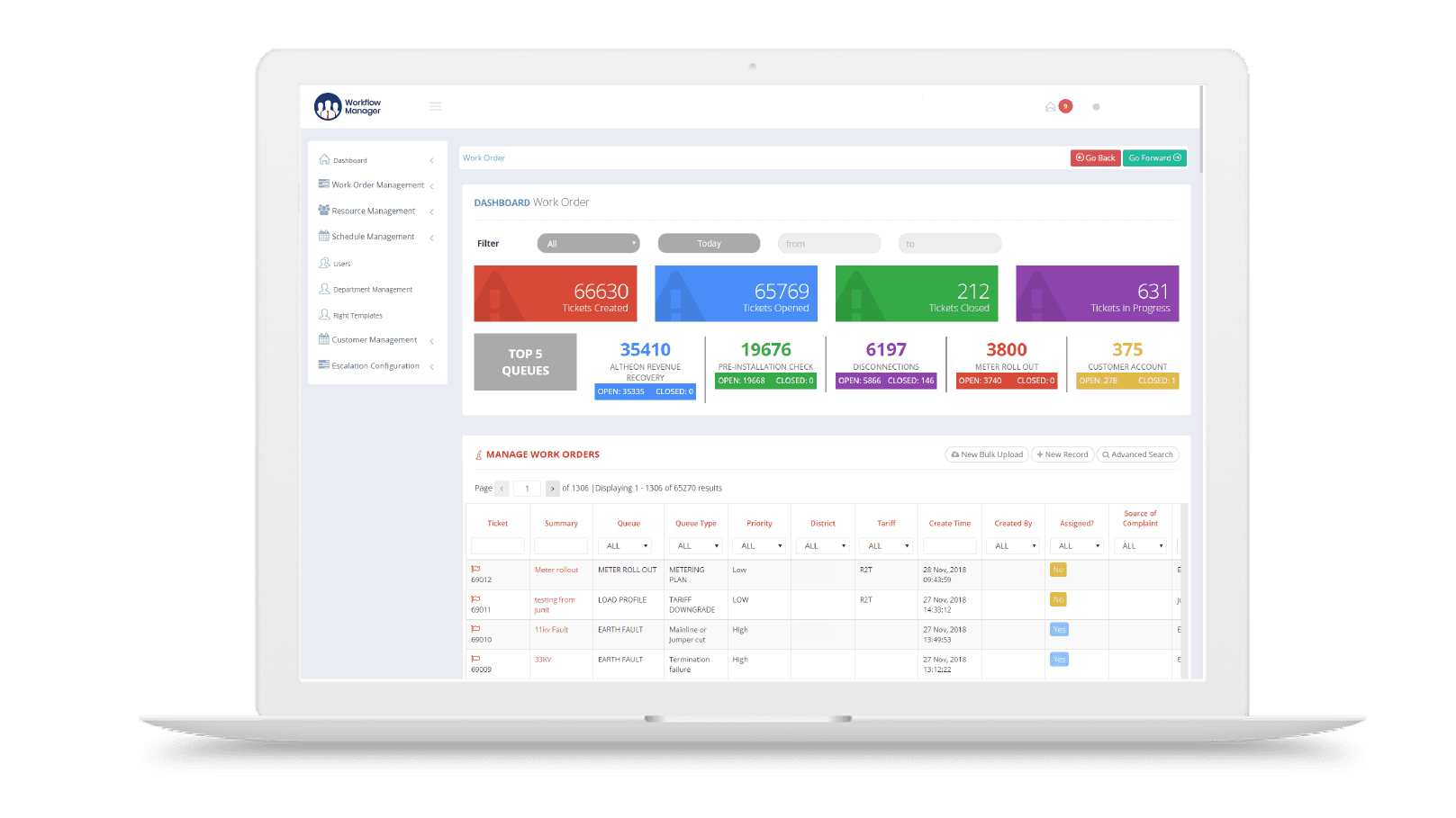 Workflow Manager (WFM) is a flexible and fully integrated platform to the Business and Operation Support system for Service Fulfilment and Problem Handling. It enables the automation of approval-based business processes across departments and systems ranging from complaint handling, task management to inventory request management. The platform enables issue tracking and problem handling from point of initiation to resolution. It gives updates to customers on the progress made, provides access to customer details such as billing information, payment invoice and ticket list and can assign work orders to various resources for resolution.
Automate your workflow process in 5 easy steps
Department
WFM sets up your business departments and processes as Queues and Queue Types. This will enable work orders to be raised and assigned to a resource for specific business processes and tasks. These work orders can be tracked using a special identifier such as Ticket Number.
Activity
When resources are assigned to specific queues and queue types, your business can measure detailed performance for a specific resource doing specific tasks at a specific time. Resources can easily and effectively be allocated to specific tasks.
Status Lifecycle
Business workflow can also be managed by setting up Statuses to track the progress of a work order from the point of initiation to resolution. When work orders are left unattended or remain in a certain status within a set time-period based on Service Level Agreement (SLA), WFM can specify multiple users to be notified.
Escalation Metrics
Allows you to specify user contacts who would be notified via email in the event of unattended work-orders – or work-orders that have exceeded the Service Level Agreement.
Reporting
Dashboard view and reports are generated such that Key Performance Indicators (KPIs) can be easily tracked. This provides specific actionable data for strategic and operational improvement.
Work Order Management

Easy assignment of tasks to resources.

Queue Management

Easy assignment of tasks in queues for fast and efficient resolution.

Issue Tracking

Track and resolve issues faster.

Ticket Management

Clear issued ticket numbers for easy identification and tracking.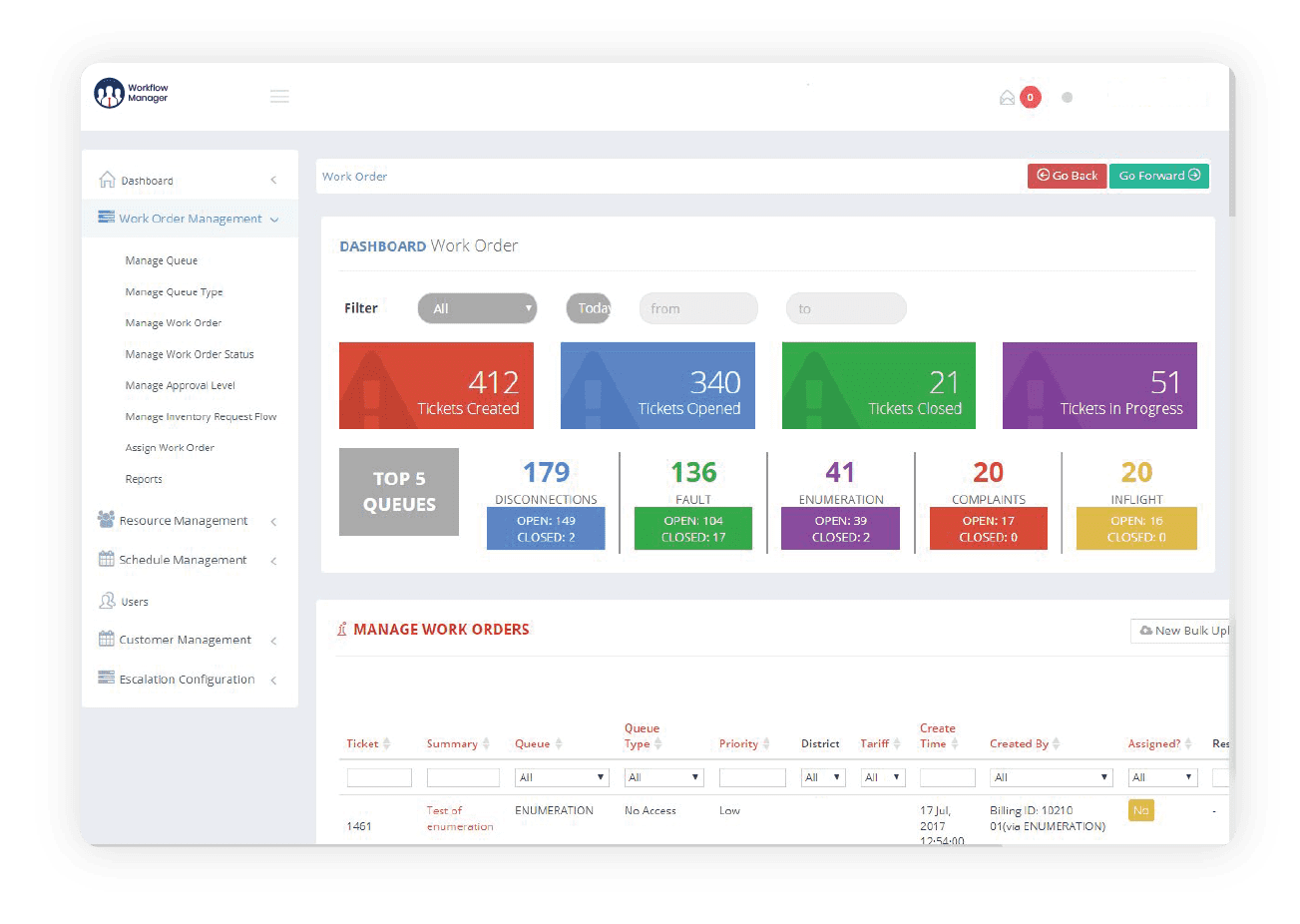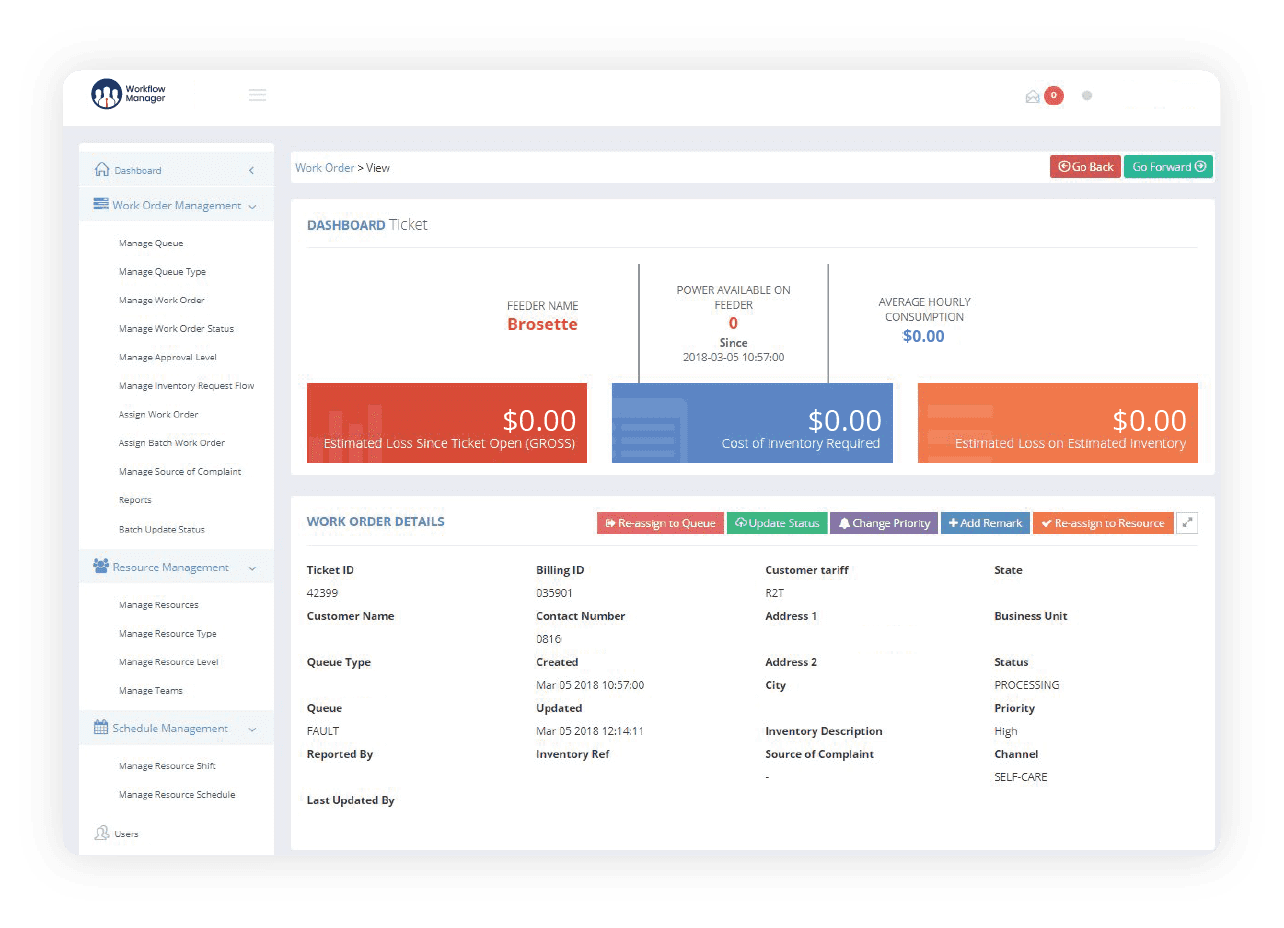 Internal Communication

Efficient communication with team members on tasks and tickets.

External Communication

Efficient communication with team members, external stakeholders and customers on tasks and tickets.

File Management

Easy management of data files.

Inventory Approval Management

Transparent management of inventory for different levels of approvals.
Customer Management

Management of customer issues to excellent customer satisfaction.

Team Management

Management of teams to ensure tasks are performed on-time.

Schedule Management

Comprehensive management of tasks to ensure that tasks are completed and schedules are shared and communicated with relevant resources.

Resource Allocation Management

Management of assets for best use of human resources.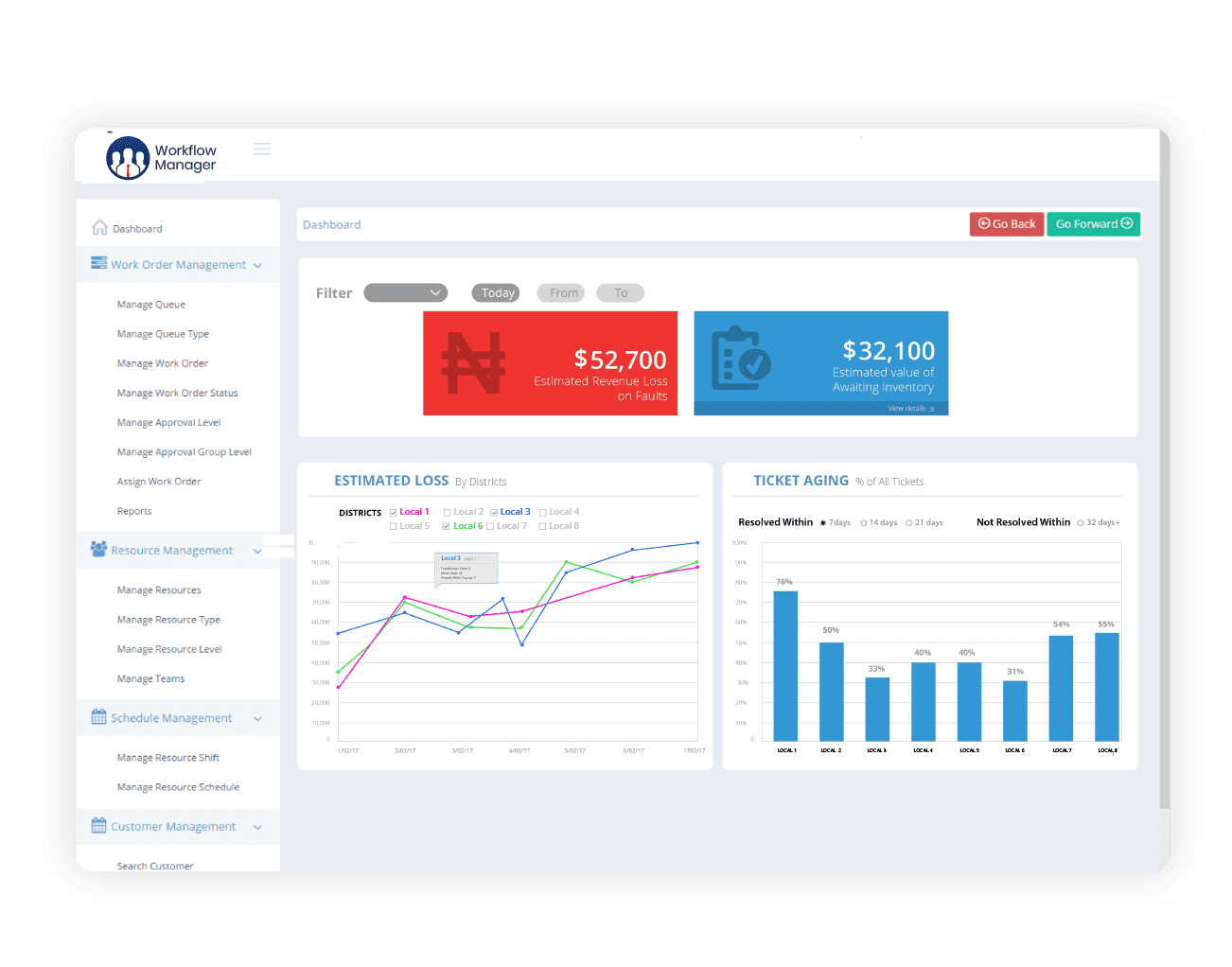 Integrations
CICOD suite of Business Support Systems (BSS) is fully integrated with the option to choose the right application as a stand-alone or as a bundle of applications depending on the business needs. The applications within our CICOD BSS can be easily integrated to existing systems within an organization's Enterprise Resource Planning (ERP) software or operated independently to provide unparalleled platforms for automating key business processes.